Intertextile Shanghai Apparel Fabrics aims at providing seamless experience connecting exhibitors and visitors. In addition to the physical trade fair, we offer online platforms to help match up businesses and address sourcing needs. Product exposure and business matching capability can be maximised while both exhibitors and buyers can enjoy a user-friendly experience and enhanced sourcing efficiency. 
What to expect for exhibitors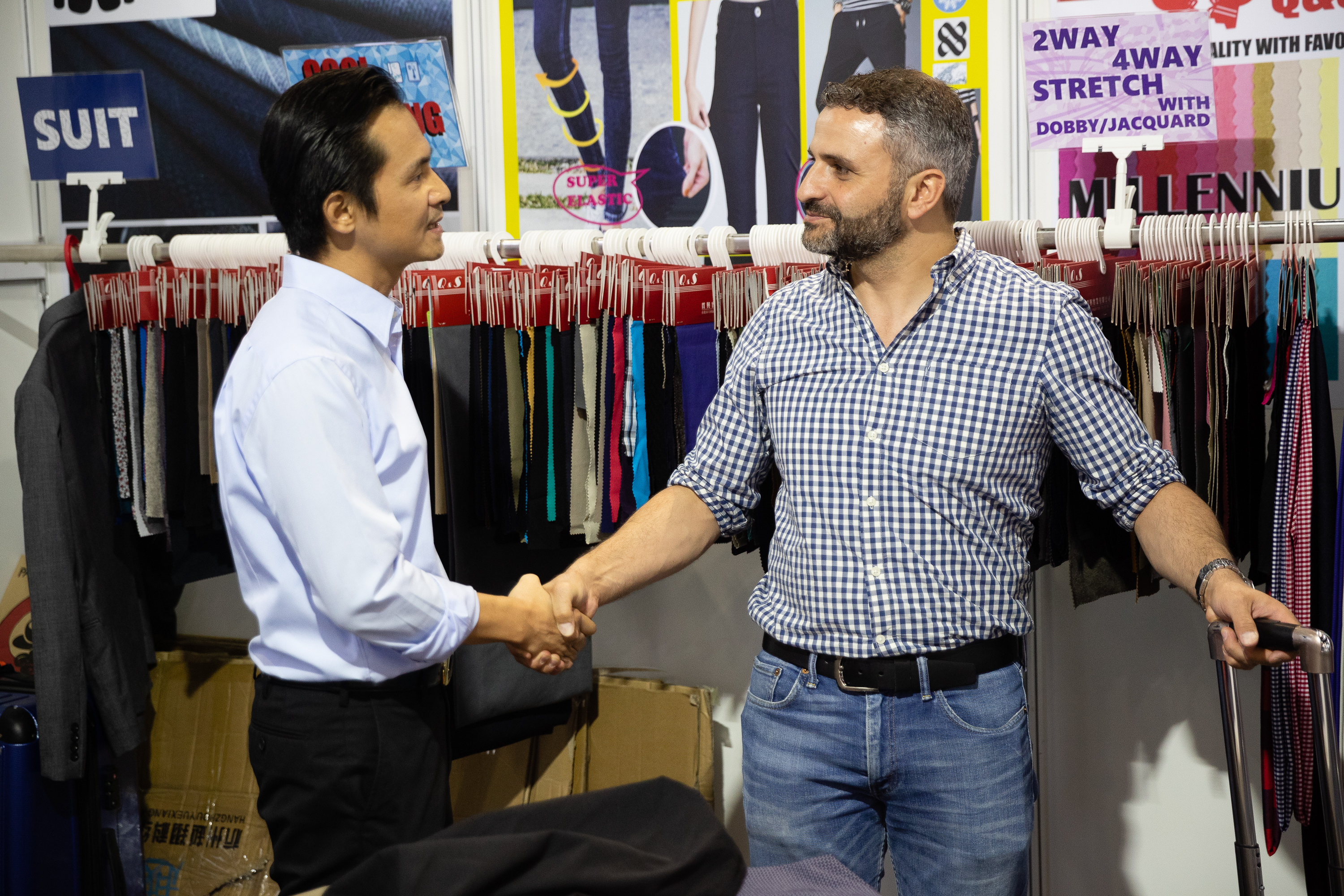 Online platforms in addition to support physical booth onsite

Onsite showcase areas to overcome district restrictions

Mobile application to extend brand presence 
Online business matching platform, Connect PLUS, to interact and schedule meetings with potential buyers with AI-driven matchmaking recommendations
Live streaming and webinars to maximise exposure for your latest products/ services

24/7 access during the 3-day event and up to 4 weeks after the fair

What to expect for visitors
All-in-one platforms to connect both ONSITE and ONLINE international suppliers

Virtual sourcing through matchmaking capabilities for exploring new business partners
Instant messenger with video call function
Schedule ONSITE or ONLINE meeting without boundaries limit
24/7 access during the 3-day event and up to 4 weeks after the fair

Powerful Online and Onsite matchmaking platform - Connect PLUS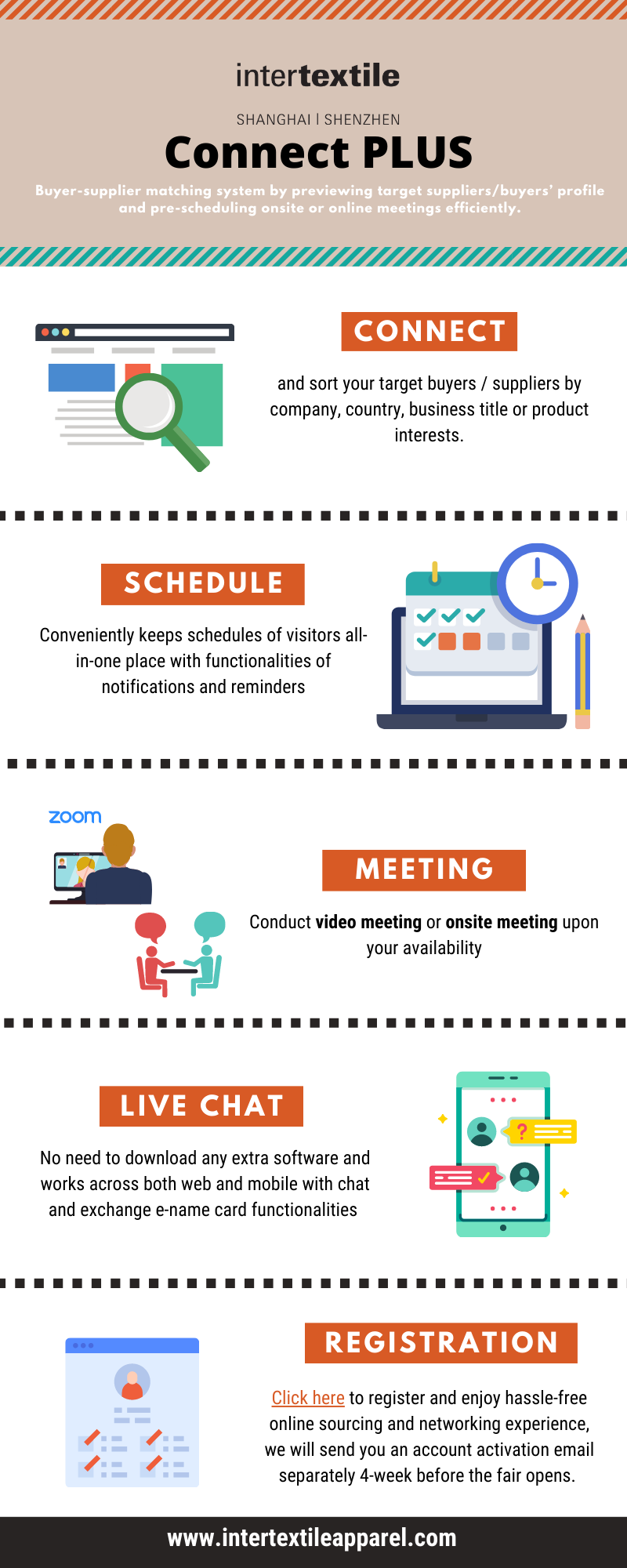 Join us NOW!
Those who have joined us as exhibitors or pre-registered to the fair can automatically join the Intertextile's Connect PLUS, and receive an email with account login details. Do not hesitate and enjoy our service now!
Supported by the Intertextile Mobile Application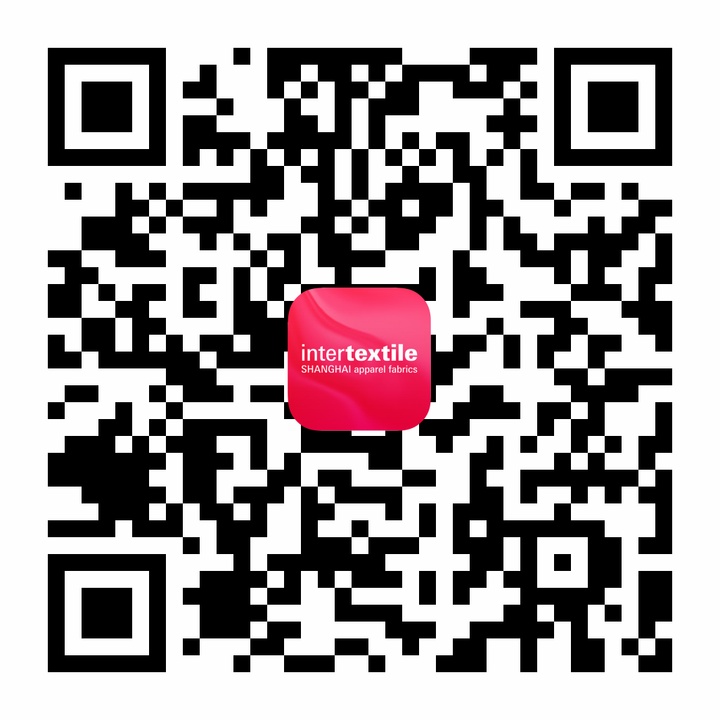 Extend your brand presence and visibility to our visitors in the Intertextile database

Showcase your latest products as easy as posting news feeds on your social media to maximise company exposure and interacts with potential buyers
 Reach new suppliers and preview their products 
Seamless virtual sourcing with matching and sorting capabilities to connect with most relevant partners
Real-time engagement to contact and schedule meetings with potential suppliers
Hear what our online platforms users said
"I'm very satisfied with the pre-schedule function for meetings and I strongly recommend it. It helps both exhibitors and visitors to have more preparation before the meeting and enhances business effectiveness."
"The online business matching platform is useful for help establishing potential business connections, since online matchings are necessary given the current situation of the pandemic. We are quite satisfied with the connections we built via this platform and email exchange."
"I'm glad we were able to join the show through the online services as I now feel up-to-date with the market. It has given me the chance to see what's available and learn about the new trends following the pandemic and disruption to the industry."